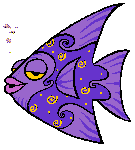 Welcome to M.-J.'s
Adventures Above & Below
the Seas of the Florida Keys!
Just needed a place to log my dives ... can't find my old log book ... and since weblogs (or blogs) are all the rage, why not start one? Before I launch into my dives for this season, I want to take a moment to share some photos from a recent cruise. My friend, PC, and I helped Keith move the Farside II, his Post 42, from Daytona to the Florida Keys over the July 4th weekend (2002).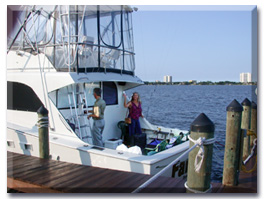 July 3rd ... Flight from Key West to Orlando, pick up a rental car, grab dinner at Boondocks in Daytona Beach, some groceries, and get onboard.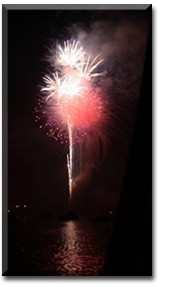 July 4th ... Underway around 7 a.m. ... dolphin sightings ... just as we get out of Ponce Inlet, we have to stop to repair an impeller on the diesel ... we make good time on the outside ... and come in at Cape Canaveral in a light rain, negotiate the locks, and travel quietly through the Cape Canaveral canal .. sighting lots of herons, egrets and a manatee with a calf. Shortly after sunset, we anchored out in the harbor at Old Cocoa ... dozens of other boats were already moored, waiting for the fireworks ...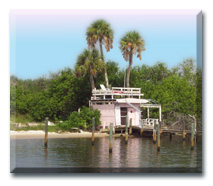 July 5th ... Underway bright and early again ... this morning offers dolphin sightings too numerous to mention ... and we pass a Loggerhead turtle who waves one flipper at us, as if to say, thanks for going slowly ... we pull into Nettles Island sometime around midday to fuel up ... pass the Hobe Sound Lighthouse in midafternoon, and by evening we are at Lake Worth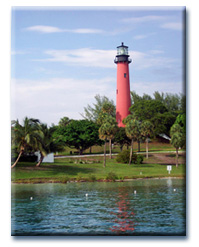 and pull into a quiet anchorage in a cove at the very northern end of the lake ... a lone dolphin bobs around the cove as we eat dinner, and PC and I swim in the last light of sunset as soon as we are done.
July 6th ... again we are on our way soon after the sun is on her way across the sky ... we go on the outside and make great time ... by mid afternoon we are in the Upper Keys and at anchor just off Tavernier Key ... PC and I explore the island waters with snorkel and mask ...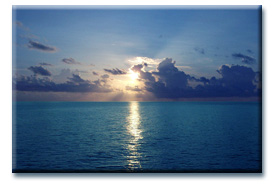 July 7th ... the morning brings a spectacular sunrise ... and we take our time over breakfast ... we are in the Keys, and time is no longer of much matter ... we make it as far as Caloosa Cove on Lower Matecumbe ... we pull into the marina there, fuel up, fight for water, and decide to stay the night in the marina ... our first night off the hook.
July 8th ... we make for home ... Cudjoe Gardens ... the weather has been beautiful all the way ... and now we get a little rain, and a bit of a rock and roll, but we are soon snug in the new slip.
---
Dive Logs/2002
Saturday, July 13th
Vessel: Farside II
Dive Time: 1 hour
Location: Pelican Shoal
Dive Buddy: PC
It's a perfect day, and a lovely shallow dive ... depth never exceeded 16 feet ... reef is teeming with ... all the usual suspects ... snapper, grunts and tropicals ... all varieties of butterfly fish ... a school of Escher-inspired Tang ...or isn't that the other way around? Lots of nurse sharks, a large Spotted Scorpionfish, and lobster out on patrol. I've never seen so many lobster out during the day, parading across our paths, turning as if to say, nyah,nyah, nyah, nyah, you can't touch me! PC surfaces after a half an hour and leaves me to have a nice long solo dive!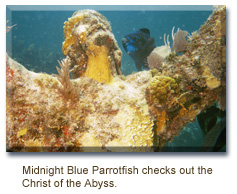 Wednesday, July 17th
Vessel: Water Scooter
Dive Buddy: Scooter
Key Largo Dry Rocks first ... I snorkel and Scooter SCUBAs to take some photos of the Christ Statue with his new NikonosV ...
Dive 2
Location: Molasses Reef - South End
Max Depth: 26 feet
Dive Time: 45 minutes
Water Temp: 84 F (Perfect!)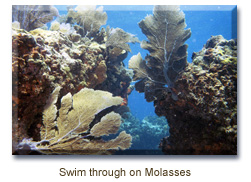 The water is gorgeous, the coral formations lovely .. there is a bit of a current to kick against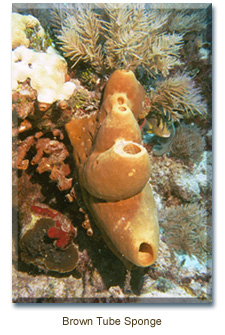 as we start the dive, but we soon find ourselves in a lovely sand valley, surrounded on all sides by coral formations of 10-15 feet ... and there is no current. Lots of fish! And beautiful red and brown sponges. This section of the reef is very colorful!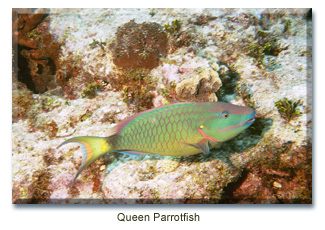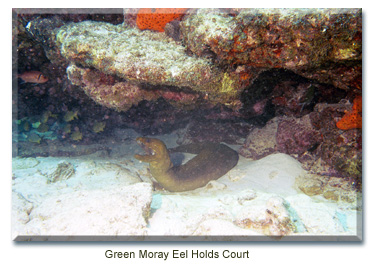 Dive 2
Location: Davis Reef
Maximum Depth: 23 feet
Dive Time: 1 hour
What a lovely spot ... it's not a long reef and the formation only rises a few feet from the ocean floor, but it runs it is perfect to swim along the sand edge of the reef and look under the ledges ...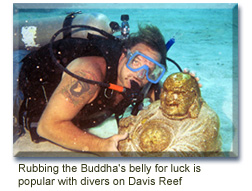 the reef teems with fish ... and a resident moray eel holds court. There is also a resident golden Buddha statue ...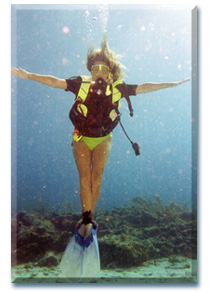 Ah, a perfect day!


July 20-21
Cruise aboard the Farside II with Jamie and Captain Cudjoe (Keith) and PC ... cruised out to Western Sambo and buoyed up to the (sand)bar, so to speak.
Diving the Western Sambos was disappointing, I must say ... the formations are pretty, but much of the coral is dead. There were lots of jawfish, which always fascinate me. These beautiful little creatures hover over their burrows, iridescent pink tails undulating, to nip plankton from the current. Their burrows aren't just simple holes in the sand, but carefully excavated and constructed pits
... they shovel the sand out with their mouths, and then add a fairly complex structure of rocks to create a tunnel down to a relatively cavernous pit.
After dark, Jamie, PC and I did a night dive ... it was delightful ... and the nearly full moon meant we could shut off our lights and still see around us. Swirling luminescence made it seem as though there were stars all around us. With the lights on we got to see a golden moray eel on the hunt, numerous brittle stars and a sleepy, spotted chub that was so confused by our lights that I was able to reach out and touch it ...
The following morning we cruised back toward Cudjoe, stopping at Pelican Shoal for a dive. Jamie and I dived together ... venturing into the deeper end of the reef ... though we never got deeper than 25 feet or so ... I love long shallow dives!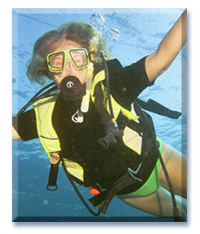 Wednesday, July 24
Islamorda
Mini Lobster Season
Snorkel/Dive Buddies: Captain Ed and Ryan Johnson
Most of our day was spent snorkeling, but we did dive on Cheeca Rocks ... and I did find a lobster there ... one, anyway ... pretty rocks and coral ... lots of fish, and all the lobstering meant that creatures I wouldn't normally see were out. I saw lots of arrow crabs, for example. One of the highlights of the day was watching Ryan hook and fight a big barracuda on a light tackle rod ... go, Ryan!
Sunday, July 28
Patch Reef off Howell Key
Time: 51 minutes (on half a tank)
Depth: 12 feet
Spearfishing with Dave! Dinner! We brought back a beautiful grouper. Dinner was grouper with mango chutney and coconut rice ... and the dive was lovely, too ... the coral heads are small where we dived, but it's fun to look under them to find the fish. You should have seen the one that got away!
Saturday, Aug. 3
Key Largo
Annual Ladies Only Dolphin Tournament
Aboard: The Dog House
Fellow Anglers: Deborah Corrao, who chartered the boat (and is the manager of Mosquito Magnet Depot), Eve and Kathy.
This was my first time fishing for dolphin. I deep sea fished once in the Bahamas in my 20s ... I caught a large barracuda, as I recall.
We spent the day about 26 miles out, following birds ... Deborah did pull in a 23 pounder, and Kathy one that weighed in about 19 pounds, so none of us will go
hungry this week. We caught nine dolphin, altogether ... one of them, my first dolphin ... I imagine it weighed all of two or three pounds ... but it was fun ... and delicious. Thanks, Deb, I had a great time! And the Dog House, a comfy 53' Hatteras is a very lovely charter boat ... thanks to Captain Chris, and his able mate, Jake, for a great day!

---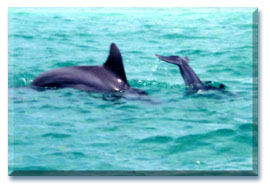 Friday, August 9
A Different Kind of Dolphin Experience
Dolphin Eco-Adventure
Captain Donna called this morning: I have space in the afternoon aboard Bite Me if you would like to be my guest. Well, I should work, I said, but how can I say no? Phoebe and I will be there!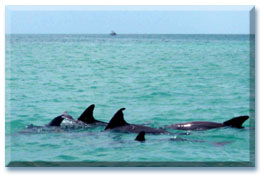 And so were the dolphins! Just outside Key West harbour around a sailboat anchorage we caught up with a large pod ... and they put on quite a show for us!
Next, we headed to Cottrell Key for a snorkel. The area is named for the captain of a lightship that was anchored here in the early 19th Century to warn mariners of the reef and to mark the Northwest passage. The iron ruins of a Coast Guard lighthouse are nearby,a structure that was used by Ernest Hemingway in the 1930s. The old wood structure burned in 1971 leaving only the iron stilts.
The shallow reef (max depth 15ft.) has lovely ledges, small coral heads, many covered by orange encrusting sponge, and sand troughs full of urchins and sea biscuits. We saw a stingray, a school of huge colorful parrotfish, spotfin butterflyfish, and a big-eyed pufferfish under the edge of the wreck. After we were back on board, enjoying our pineapple and melon, a small loggerhead turtle came to visit! Thank you, Donna, for an amazing day!
---